Get More with the Grappone Used Car Guarantee!
At Grappone, we pride ourselves on delivering top-notch customer service to New Hampshire and Greater New Hampshire used car buyers, especially after the purchase is finalized. That's why we offer the Grappone Guarantee*!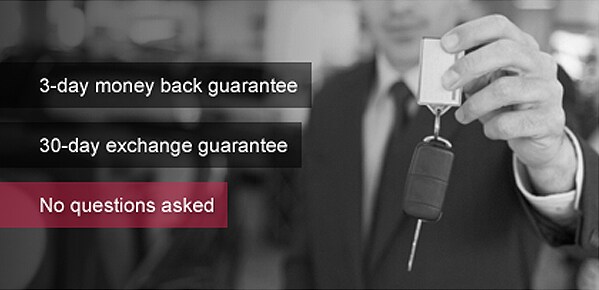 If you are unhappy with your used car, you can return it to us within 3 days after purchase for a refund, no questions asked. We understand that a few days spent with a vehicle can shape your perspective, so we're here for you if you decide to change your mind. Need more time? Go ahead and take it. We'll allow you to trade in your recent purchase for another vehicle within 30 days or 1,000 miles, whichever comes first.


Our mission is to make it easy to get the perfect used car in New Hampshire and all of New England, and the Grappone Guarantee is our way of ensuring our customers are happy. Call a Grappone Automotive Group dealership today if you have any questions.

Program Eligibility
All pre-owned vehicles are eligible for the 3 Day Money Back Guarantee if returned to Grappone Automotive Group within the first 3 business days (THE DAY OF DELIVERY COUNTS AS THE FIRST DAY) of delivery.
All pre-owned vehicles are eligible to be traded within the first 30 calendar days or 1000 miles of delivery.
The vehicle must currently be owned or leased by the retail purchaser/lessee of the eligible vehicle.

Exclusions
Fleet purchase and fleet lease vehicles.
Vehicles used for livery, taxi, or delivery services or any commercial use.
Customers who have previously returned vehicles under this program within the past 12 months.
Vehicles acquired in exchange under this program.
Used vehicles that have had aftermarket accessories installed, (i.e., LoJack, paint sealant, etc.)
Refund Provisions
Vehicles must be returned to The Grappone Automotive Group and be accompanied by all pre-owned vehicle purchase or lease transaction documents, including the sales contract/lease agreement, license and registration.
Grappone Automotive Group will not refund tax, title, and license fees on the returned vehicle. However, the customer may be eligible for abatements from the state.
Grappone Automotive Group will refund administrative charges including the administration fee (and any prepayment penalty) for the original vehicle financing, but not the interest due at the time of return. The customer must pay any interest and principal balance and other amounts due in order to provide a free and clear title to Grappone Automotive Group.
Lease cancellation charges assessed by the lease institution will be refunded. If, however, the customer leases another new or used vehicle, many lease companies will either execute a substitution of collateral or will cancel the original lease and put the customer in a new lease without cancellation charges.
Vehicle insurance is a separate transaction from the vehicle purchase or lease transaction and any related expenses are the sole responsibility of the customer.
Vehicle Inspection
Any vehicle returned under this program will be inspected by an authorized representative of The Grappone Automotive Group for damage and excessive wear and tear. If the excess wear and tear and/or damage is equal to or greater than $300.00 the vehicle is not eligible to be returned. If less than $300.00, the damage repair estimate will be deducted from the credit amount.
Valuation of "Trade In" Vehicle
If the customer trades in their current vehicle as part of the used car purchase transaction, the "Agreed Upon Trade In Value" will be used in determining the refund value to be applied to another vehicle.